The French press is one of the most inexpensive coffee makers, and it is pretty versatile. People who like a stronger, and bolder cup, appreciate this coffee brewing method.
Many times French press is compared to espresso, because of the ample body, and the strong aroma and flavor. Even if technically French pots cannot make real espresso, we can get a cup that resembles it. We just have to tweak the amount of water we use during brewing. We have a full French press brewing guide here if you want to get into the fine details and perfect your technique.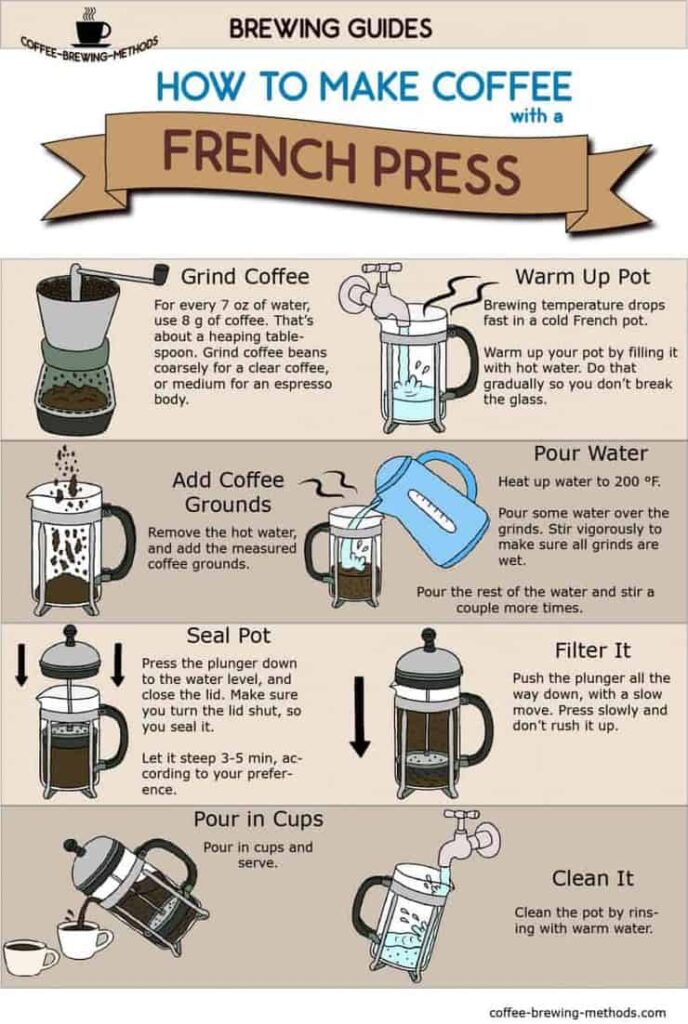 Check the Complete French Press Brewing Guide
How to Make Coffee with A French Press
Grind Coffee For every 7 oz of water, use 8 g of coffee. That's about a heaping tablespoon. Grind coffee beans coarsely for a clear coffee, or medium for an espresso body. If you want to get an espresso-like coffee, use half of the water with the same amount of beans.
Warm Up Pot Brewing temperature drops fast in a cold French pot. Warm up your pot by filling it with hot water. Do that gradually so you don't break the glass. This not only prevents getting a tepid coffee in the end, but it helps a proper extraction.
Add Coffee Grounds Remove the hot water, and add the measured coffee grounds. Only remove the hot water when you are ready to brew. An empty pot will cool down faster.
Pour Water Heat up water to 200 °F. The temperature range is actually between 194 and 200 °F. Lower temperatures will result in a more rounded taste. Pour some water over the grinds, just enough to cover the grounds. Stir vigorously to make sure all grinds are wet. When you made sure all the grounds are saturated, pour the rest of the water and stir a couple more times.
Seal Pot Press the plunger down to the water level, and close the lid. Make sure you turn the lid shut, so you seal it. Let it steep 3 – 5 min, according to your preference.
Filter It After the 5 minutes, push the plunger all the way down, with a slow move. Press slowly, and don't rush it up. If you press to hard, you'll end up with silt and grounds in your coffee.
Pour in Cups Pour in cups and serve immediately. Coffee is best served hot.
Clean It Clean the pot by rinsing with warm water.