If you love drip coffee, but the auto-dripper you are using can't brew a single cup, pour over coffee is one of the best options. Many people get discouraged by the technical aspect of brewing with a manual dripper. The reality is that it's not that complicated.
This infographic shows you step by step how to use a pour over device to make a delicious coffee at home. It will be better than the coffee shop coffee.
The most important things when making coffee at home are the grind size and the brewing temperature. These two coffee brewing parameters can dramatically change the taste of your drink. Make sure you adjust these correctly. More on the subject in our manual drip brewing guide.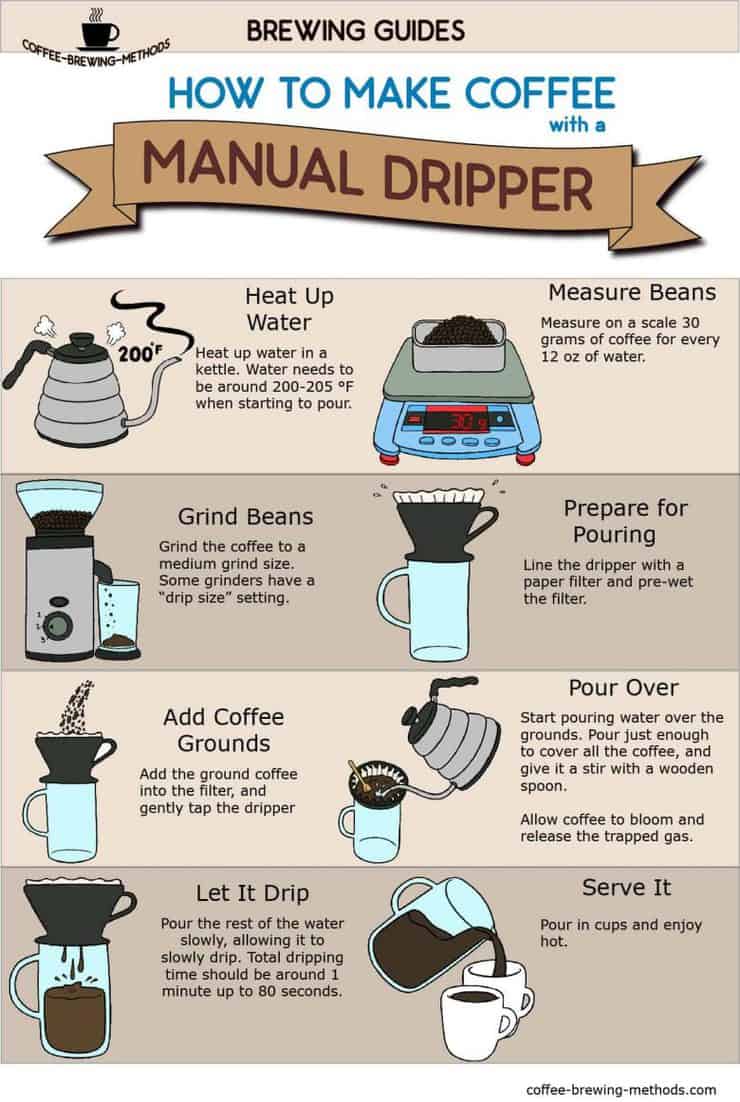 The Advanced Pour Over Brewing Tutorial
Pour Over Coffee Recipe
Heat up water to 205 °F in a kettle.
Measure on a scale 30 grams of coffee for every 12 oz of water
Grind the coffee to a medium grind size
Line the dripper with a paper filter and pre-wet the filter.
Add the ground coffee into the filter, and gently tap the dripper to level the grinds.
Start pouring water over the grounds with a circular motion starting from the center to the edges.
Pour just enough to cover all the coffee, and give it a stir with a wooden spoon.
Allow the coffee to bloom and release the trapped gas, and then pour the rest of the water, allowing it to slowly drip. Total dripping time should be around 1 minute up to 80 seconds.
We would like to know what is your recipe for pour over. If you tried our recipe, how did you like it?