Brewing espresso with a semiautomatic machine is a skill that starts to disappear. The convenience of super automatic machines shifts the buying preferences of the modern coffee lover. There is also the beverage preference that plays a role but is not the subject of our brief guide. This coffee brewing infographic is the shortest guide possible, to get you started. We have the written version after the graphic and is a bit more detailed. However, if you want to perfect your technique, and pull cafe quality shots, check our detailed espresso brewing guide.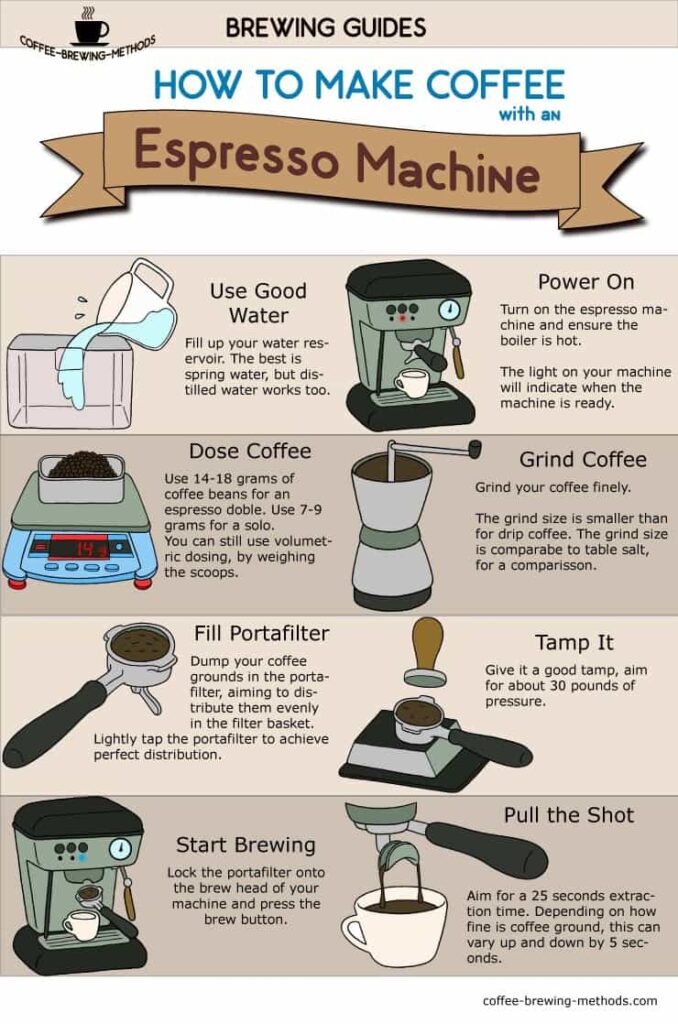 Click for an Advanced Espresso Brewing Tutorial
Use Good Water Fill up your water reservoir. The best is spring water, but distilled water works too. Distilled water is good because is odorless and tasteless, and it prevents scaling. But spring water gives your shot the extra taste dimension that it needs.
Turn On the Machine Ensure the boiler is hot. The light on your machine will indicate when the machine is ready.
Dose your coffee. If your grinder doesn't have a doser, weighing on a scale is the best option. Use 14-18 grams of coffee beans for a double espresso. Use 7-9 grams for a solo. You can still use volumetric dosing, by measuring the scoops. What I do, is measure by scoops, and then weigh the beans. When I change the beans I repeat this operation.
Grind Coffee Grind your coffee finely. The grind size is smaller than for drip coffee, but not quite a powder. Table salt is a good comparison size.
Fill the Portafilter Dump your coffee grounds in the portafilter, aiming to distribute them evenly in the filter basket. Lightly tap the portafilter to achieve perfect distribution. You can tap with your knuckles on the sides of the portafilter, or knock it on the tamping mat. This is an adapted technique. If you have a grinder with a doser, step 5 and 6 are a single step.
Tamp it. Give it a good tamp, aim for about 30 pounds of pressure. That pressure can vary, depending on your coffee variety and roast, and the grind size. But as a beginner, you need to change just one variable at a time. So be consistent with your tamping force at 30 pounds.
Start Brewing Lock in your portafilter into the brew head of your machine and press the brew button.
Pull the shot Aim for a 25 seconds extraction time. Depending on how fine is coffee ground, this can vary up and down by 5 seconds. The extraction time is the same, whether it is a solo or a doppio.
Happy brewing!
This infographic is a simpler, graphical version of our guide on how to use a semi-automatic espresso machine. We love this infographic because is a fast way to start. We do recommend you though, to bookmark our espresso tutorial here, as a comprehensive list of articles on the topic, including espresso pulling, milk frothing, espresso alternatives, and brewing equipment.